Overview
The Essex County Council Stakeholder Consultation on the Draft Walking Strategy, took place this summer. However, now we would really like to hear the views of our residents, businesses and visitors regarding how we can increase walking in Essex, please follow this link to have your say:
https://consultations.essex.gov.uk/rci/essex-walking-strategy-resident-consultation/
Essex County Council recognises the importance of walking both as a form of transport and as a leisure activity.
The draft Walking Strategy is a response to the challenges and opportunities of walking in Essex, it outlines in detail the steps being taken to encourage walking at present and the direction that will be taken in the future.
Benefits of Walking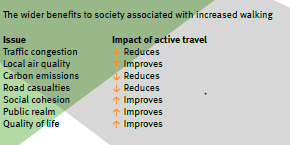 Why your views matter
We want to increase the numbers of people walking in Essex and need your help to understand how we can do that.
This consultation is primarily designed for the residents and businesses of Essex, but those interested in how to improve our streets and footways to promote walking and improve the pedestrian environment can respond.  
The survey will take you 5 minutes to complete.
Need help? If you have any queries or problems in responding, please contact walking.strategy@essex.gov.uk
If you are an organisation or representative of a community group, please email your thoughts regarding the strategy to walking.strategy@essex.gov.uk
Your opinions and comments will help to finalise the Walking Strategy and identify the priorities to develop an action plan which will be presented to partners and ECC's Cabinet Winter 2019.